---
From now on MODEUROP, the Fashion Trend Pool in DSI, is under new creative mangement. The Berlin based design & trend agency nextguruNow, well-known and responsible for the BAGS Forecast at MODEUROP for many years, will now also obtain the creative management of the SHOES segment as well als lead and advance the realignment of the colour meetings. Our common goal is to make ModEurop more young and dynamic, not least because of the serious changes in the fashion scene. Trends come and go quickly. It is no longer the fashion elite making out new trends. Trends are developing on the street. Streetwear has become the most important inspiration for creatives all over the world: from New York, Paris and London up to Berlin.

MODEUROP reacts exactly on these developments. The trend agency nextgurunow with their creative minds Martin Wuttke and Uta Riechers-Wuttke, research and analyze the international markets and bring to life a vision of what is happening. They have the foresight to predict the trends of tomorrow, an in-depth knowledge of the fashion industry, and a true passion for fashion. Their design education and close involvement with art, music and the international design scene allows them to spot what is new and relevant in the fast changing markets. They develop customized collections for international clients (such as Helly Hansen, New Yorker, Otto Group or Bruno Banani in the men and women's wear sector and casual wear market) using their know-how to transform conceptual ideas into successful collections which meet end consumer needs. Moreover the agency nextgurunow used to work for Promostyl Paris and WGSN London and is responsible for the fashion consulting of ILM Offenbach (International Leathergoods fair).
Trends come and go. Stability is based on confidence and reliability. MODEUROP the fashion pool in DSI, will also in the future be positioned under the umbrella of the "Deutsches Schuhinstitut". Of course, MODEUROP will also keep up to date all creatives, designer und companies of the shoe and leathergoods sector about upcoming and present trends. The internationally renowned MODEUROP Colour Card will of course be kept as an important element of MODEUROP's work. All the international activities of MODEUROP will likewise be continued: the long-standing, successfully established MODEUROP partnership with the Italian Group Biokimica (importan supplier of international tanneries) and the Indian Institutes CSIR and CLRI (Council of Scientific & Industrial Reserach and Central Leather Research Institute) with MD Sadiq as designated and energetic representative of MODEUROP in India will not only be continued but from now on even intensified.

Important news: The date and programme of the next MODEUROP Colour Meeting have been adapted to the requirements of the shoes and leathergoods business. The next Colour Meeting, in which amongst other things will be decided about the colours of the Colour Card autumn/Winter 2019/20, will take place on april, 10th, 2018. The upcoming meeting will be more compact and concentrated fort he (for the) first time on one day only. A come together / dinner will be arranged the night before.
Offenbach 10.1.2018
---
ModEurop ColourCard Frühjahr/Sommer 2019 in neuem Look
Die ModEurop ColourCard für Frühjahr/Sommer 2019 ist da! Und sie präsentiert sich in einem neuen, modernen Design. Das Layout wurde komplett überarbeitet. Die einzelnen Farbthemen sind jetzt auf drei individuell herausnehmbare Klappkarten aufgeteilt. Alle Farbmuster sind auf einen Blick erkennbar. Sie lassen sich dank praktischer Velcro-Sticker einfach entnehmen und wieder einsetzen. Hinter den Ledermustern ist die jeweilige Farbe mit zweisprachiger Bezeichnung als Farbblock hinterlegt. Die neue Farbkarte ermöglicht noch mehr Gestaltungsfreiraum, indem unterschiedlichste Farbkombinationen zusammengestellt werden können. Allen Kreativen der[nbsp] Schuh- und Lederwarenbranche bietet die international anerkannte ModEurop ColourCard in Echtleder damit noch mehr Vorteile bei ihrer täglichen Arbeit.
Die Colour Card FS 2019 ist ab sofort beim Deutschen Schuhinstitut in Offenbach erhältlich. Die insgesamt 22 Farben für F/S 2019 wurden in die drei ModEurop Themen "Earthiness", "Eccentric" und "Endlessness" eingearbeitet.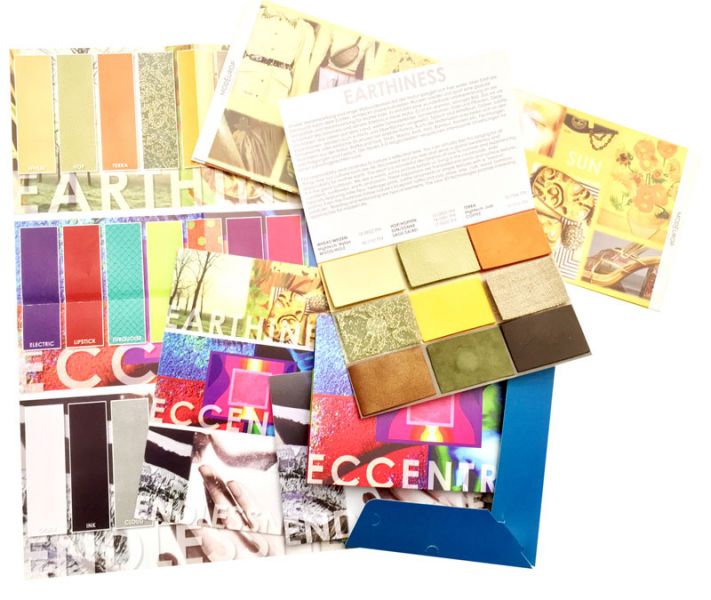 Die ModEurop ColourCard umfasst:
NEU: drei einzelne Farbkarten mit individuell herausnehmbaren Mustern in Echtleder
alle Farben auf einem DIN A3 Farbposter, auf dem die Farbthemen auf einen Blick gut erkennbar sind
wichtige Informationen zur Verwendung der Farben und zahlreiche stimmungsvolle Bilder, die die einzelnen Colour Stories beschreiben
das Colour Booklet im praktischen DIN A5-Format
Die Lederfarben sind auf das modische Textilangebot der wichtigsten europäischen Produktionsländer abgestimmt und durch 'technische Materialien' ergänzt. Die Texte und Farb-Collagen sind in Deutsch und Englisch abgefasst. Die ColourCard kostet im Einzelversand € 140,- zzgl. MwSt. und Versand, das Jahres-Abonnement kostet € 240,- zzgl. MwSt. und Versand.
Bestellungen der ModEurop ColourCard Frühjahr/Sommer 2019 über unseren Bestellschein.
Offenbach, December 5th, 2017
---
MODEUROP COLOUR CARD Autumn/Winter 18/19
Knowledge is power giving you a head start. And this is particularly true in the fast-paced fashion sector. Not least against this backdrop the MODEUROP Colour Card in genuine leather has become an indispensable and internationally recognised tool for all creative professions in the shoe and leather sectors.
The 20 colours in total for A/W 18/19 were defined around the themes "Performance", "Passion" and "Reflection".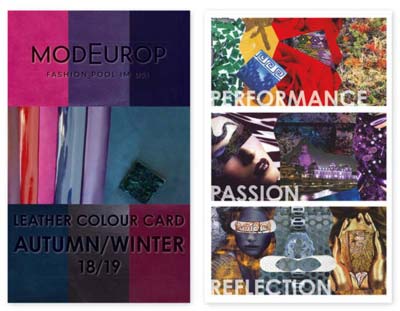 The MODEUROP COLOUR CARD includes:
The Colour Block with removable genuine leather swatches
All colours in an A3 sized poster featuring the colour themes clearly discernible at a glance
A Colour Booklet in a handy A5 format is containing important information on the use of colours and numerous mood boards describing the individual colour stories
The leather colours are tuned to the fashion textile ranges of the most important European production countries and have been extended to include "technical materials". The text and colour collages are in German and English. The COLOUR CARD incl. CD-ROM cost € 95.00 excl. VAT when ordered as a one-off copy; the annual subscription is € 150.00 excl. VAT.
Order the MODEUROP COLOUR CARD Autumn/Winter 18/19 from:order-form via modeurop@schuhinstitut.de or
Deutsches Schuhinstitut GmbH
Berliner Str. 48
63065 Offenbach am Main
Offenbach, 16. Mai 2017